Setting up your Email for the Mac Mail Application  
1. Open the Mac Mail application. You can do this by:
Opening Finder
Selecting Applications in the left sidebar
Scrolling through the applications until you find Mail
Opening the application
2. Go to Mail in the top nav bar and select Add Account in the drop-down
3. Select Other Mail Account and click Continue
4. Fill in the information:
Name: Input your name. This name will show up as the sender of this account's emails.
Email Address: Enter your Pair email address.
Password: Enter the password for your email account.
5. Click Sign In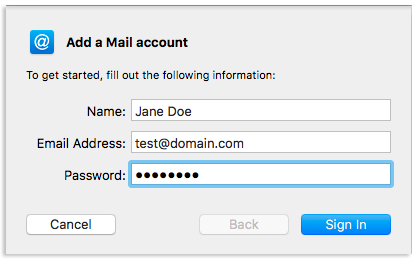 6. Fill in the information on the next page:
7. Select the apps you want to be able to access this account
8. Click Done
Congratulations! You've set up your Pair email account in your Mac Mail.
Using SSL to Secure Your Email
Pair Networks provides support for SSL/TLS and STARTTLS encryption for all IMAP, POP, and authenticated SMTP connections. Using encryption is an important way to prevent your password from being stolen.
POPS/IMAPS only secures the connection between your email reader and the mail server. Once it reaches the mail server, it will be in plain text. For additional security, you would need to encrypt the email message itself. The port for POPS is 995, the port for the IMAPS is 993, and the ports for encrypted authenticated SMTPAUTH are 465 and 587. These are the standard ports for these services, and you should not need to manually set them.
Please note that we replaced the secure certificate used to provide POPS, IMAPS, and SMTPS email services (sending and receiving email over SSL). Our SSL certificate vendor has changed to a new "root" certificate, which is recognized by most, but not all, email programs. If your email program begins returning errors and indicates that the server certificate is not recognized, please download the root certificate below and install it in your email program. The specifics of how to install a certificate will vary from program to program -- please consult the help files of your program for details.
Please also note that our mail servers use an SSL certificate. If you use this SSL option in conjunction with a domain name, your email reader may warn you that the domain names do not match. Some email readers will allow you to ignore this warning. In these cases, your incoming email will remain secure.
However, some email readers will not let you proceed if the security certificates do not match. If this occurs, please verify your incoming server settings as follows:
For accounts created prior to June 1, 2011:
mailX.pair.com
(where X is your server number)
For accounts created on or after June 1, 2011:
username.mail.pairserver.com
(where "username" is your main account username)